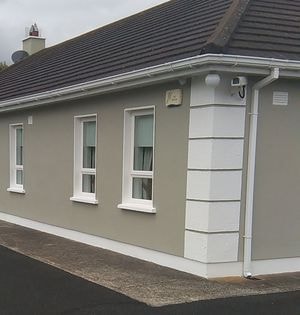 Gutters are an essential product when it comes to protecting your home. Over many years we have evaluated many types of uPVC gutters, and have chosen the best, long lasting and most durable uPVC gutter. One that keeps its shape and color the longest. We also have the perfect matching Soffit and Fascia to complement to ensure that your house will look the best.
We had our gutters replaced not even 2 years ago and the guys he did the job were robbers! Luckily a neighbour of ours were getting new (now I know the name) Soffits replaced so I asked Collin and he dropped by after and I must say was amazing, he fixed their shoddy work and did not charge me half as what they did. But I am also going to get him back to do the Rain water collection system for my Garden now that we are metered!
By Frank, Rathfarnham, Dublin
Are Seamless Gutters Seamless?
No, it is a common myth and we get asked this a lot, Seamless Gutters need to have seams when you join them and needless to say these can fail like all seams, it is not common but they can. It also requires an expert to fit, and there are many people who have done very poor jobs that we go back and fix.
Can I save money and the Environment?
Yes, you will find over time that you are loosing a huge amount of your household heat through your roof with a badly fitted roof, soffit and or Fascia. We can either repair or replace and in a very short time you can start seeing savings.
Images in this category