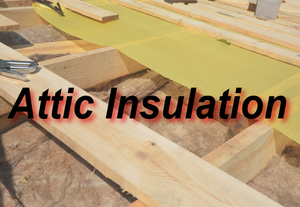 As every home is different, so are the needs for attic insulation.
We find Earth wool to be the best choice for most homes as it is environmentally friendly and safe to handle.
Earth wool is also encapsulated and does not promote mold or bacteria growth in the Attic, unlike some other types of insulation materials that can trap moisture and increase risk of mold in your attic.
Although it's a little more expensive, Earth wool has excellent R-Value * (5.5 per inch), which means fewer layers are needed than standard fiberglass batt uninsulated with a R-Value of 3.5/inch. Its high recycled content also makes this renewable product much more eco-friendly than others on the market.
You may have seen some of the advertising that shows that Attic Insulation is a lot more complicated than it needs to be, however at FixMyRoof we believe in keeping things simple.
We will insulate your attic with no mess and minimal disruption to you or your home.
*Is a measure of how well a two-dimensional barrier, such as a layer of insulation, a window or a complete wall or ceiling, resists conductive heat flow.
I would highly recommend Colin and Liam for their efficient and professional work during these challenging times.I had a problem with Attic condensation which they resolved quickly and at the same time replaced my old attic insulation. Great job. guys.
Many Thanks
Margaret Moynihan
By Margaret Moynihan, Dublin
What are the best types of Attic Insulation
There are many different types of Attic Insulation material, from Rockwool, Fibreglass wool and Earthwool, through to Foam Board or Rigid Board. So depending on your type of attic it will depend on the type of material you will choose. The range of "Wools" are the most common as they are more flexible aside from Rockwool, which is more similar to tye Foam Boards.
When it comes down to EarthWool or Fibreglass, we ALWAYS choose Earthwool, aside from its amazing insulation properties, it is also environmentally friendly. For this reason because it is also eco-friendly, and sustainable, Earthwool of all the flexible infill options is the very best.
What is Earthwool Insulation
Earthwool Insulation is one of the most softest types of infill used in insulation. Also it has a very low density of approximately 20kg/m3. This also makes it very light. Unlike Rockwool and Fibreglass, Earthwool doesn't need any special handling or protective clothing as Earthwool has been specifically designed to be much easier to handle and made to be itch-free.

Earthwool is made of over 80% recycled glass and a sustainable bio-based binder which makes it incredibly flexible but also safe to handle. It also shares the same nonflammable and thermal performance as Fibreglass and Rockwool.


No gallery image found!!!