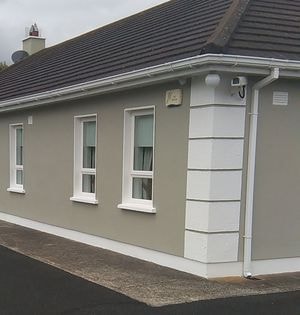 Gutters are an essential product when it comes to protecting your home. Over many years we have evaluated many types of uPVC gutters, and have chosen the best, long lasting and most durable uPVC gutter. One that keeps its shape and color the longest. We also have the perfect matching Soffit and Fascia to complement to ensure that your house will look the best.
Hi Collie
Just wanted to thank you for doing a great job on the replacement of the Fascia and Gutters, the house looks great now, and have to admit did not think it would make such a difference on the draughtness of upstairs but wow it has!
By John, Raheny
Are Seamless Gutters Seamless?
No, it is a common myth and we get asked this a lot, Seamless Gutters need to have seams when you join them and needless to say these can fail like all seams, it is not common but they can. It also requires an expert to fit, and there are many people who have done very poor jobs that we go back and fix.
Can I save money and the Environment?
Yes, you will find over time that you are loosing a huge amount of your household heat through your roof with a badly fitted roof, soffit and or Fascia. We can either repair or replace and in a very short time you can start seeing savings.
Images in this category